Activating AVEVA Edge Development Consignment licensing for SI & OEM Use
Tech Note: ISS-TN112
Published Date: September 17, 2021
Primary Product: Edge HMI
Revision Date:
---
ABSTRACT
Current AVEVA Partners (OEMs or System Integrators) who already own or purchase the following consignment licenses (and support) are also eligible to acquire AVEVA Edge development licenses on consignment for no additional charge.  The consignment must be purchased (renewed) on a yearly basis, so the licenses can be re-issued (renewed).
Development Studio Consignment
Advanced Development Studio Consignment
InTouch Dev Subscription 3K Consignment
BEFORE ATTEMPTING THIS PROCEDURE, YOU MUST BE REGISTERED AND CONFIRMED as either an "OEM" or "System Integrator" user with AVEVA thru the technical support website: https://om.AVEVA.com/softwarewebID/
Consignment Licenses are "Development Only" licenses.  Runtime licenses must be purchased separately and CANNOT be requested as Consignment using this Tech Note.
PROCEDURE
Notice that AVEVA Edge is the new brand name and version for InduSoft Web Studio.  Moreover, projects previously created in InduSoft Web Studio are automatically supported by newer versions of AVEVA Edge.  However, projects created in AVEVA Edge are NOT supported in InduSoft Web Studio.
If you are attempting to activate InduSoft branded software (not available after version 2020R2), please follow the instructions at this link instead.
The instructions to activate a consignment license for AVEVA Edge are available at https://sw.AVEVA.com/support/intouch-hmi-activation, and described below in further details:
1)  Install AVEVA Edge software on the development computer running a supported version of Windows Desktop/Server (e.g.: Windows 10).  [Software downloads are available here.]
2)  Close AVEVA Edge (make sure that the process "Studio Manager.exe" is not running)
3)  Run the "Register" module (Start > AVEVA Edge > "AVEVA Edge Register")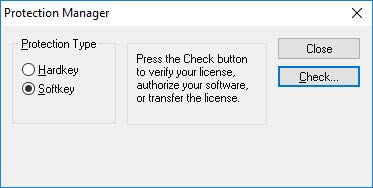 4)  Select "Softkey > Check > Change License"
5)  Select a Network Adapter that most likely will not be removed and does not have a dynamic MAC Address (avoid VPN and virtual
adapters)

6)  Copy the "Hardware Identifier"
7)  Visit the AVEVA website (https://softwareom.wonderware.com/Licensegen/default.aspx) to activate the license.  You need your Wonderware credentials to log in to the site. If you are eligible to consignment licenses, you will be prompted with two options: "End User Runtime Licenses" and "Consignment". Select "Consignment" and click on the "Submit" button to activate Consignment Licenses.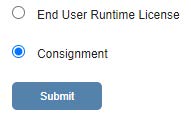 The "End User Runtime License" option must be selected for perpetual licenses only (not consignment). When selecting "End User Runtime License", the system will ask for the Serial Number of the purchased license. It is not necessary to enter any Serial Number to activate consignment licenses.
Note: If you are NOT able to log-in to this site, or do NOT get the "Consignment" option, either your registration has not been confirmed by AVEVA, or, you are NOT eligible for consignment licenses. In order to be eligible, you must be registered correctly as a Partner with AVEVA (not End User) and own at least one of the consignment licenses mentioned above in the Abstract with an active (not expired) support agreement.
To check your registration, please contact AVEVA at

[email protected]

To establish an active consignment agreement, please contact your Sales Representative, or

[email protected]
8)  Select the consignment license for the version of AVEVA Edge that you want to license, paste the "Hardware Identifier" from the "Register" module into the web form and click submit.

9)  If a valid "Hardware Identifier" has been entered, then a license "Activation Code" is returned. Copy/paste or type the code in the "Activation Code" field in the "Register" module, and then click Authorize.

10) The new license settings are saved on the computer and a confirmation message is displayed ("Activation Code Accepted").
If the new "Activation Code" is not validated, an error message is displayed. If this happens, double-check that you have entered the "Activation Code" correctly. If you still get an error message, contact our technical support department.
The consignment licenses for AVEVA Edge are temporary Softkey licenses, which expire when the current consignment agreement expires (up to one year). When/if the consignment license agreement is renewed by the partner, they can activate the consignment license again.
---
All Industrial Software Solutions Tech Notes are provided "as is" without warranty of any kind.