How to Centralize and Acknowledge Alarms Across a Distributed SCADA System Using the Wonderware InTouch Alarm Hot Backup Manager
Tech Note: ISS-TN069
Published Date: August 8, 2008
Primary Product: InTouch HMI
Revision Date:
---
Applies to
Wonderware InTouch – all versions
Abstract
When working with distributed SCADA systems the need may arise to centralize alarms for single alarm acknowledgements and alarm provider redundancy. Wonderware InTouch provides such a method through the use of the Wonderware Alarm Hot Backup Manager utility. This document will list the steps necessary to configure the Wonderware Alarm Hot Backup Manager, and will discuss routinely inquired information.
Procedure
To launch the Wonderware Alarm Hot Backup Manager open Wonderware InTouch WindowMaker, expand Applications from the application explorer (left-hand pane), right-click on Alarm Hot Backup Manager and select Run. The Alarm Hot Backup Manager window will open.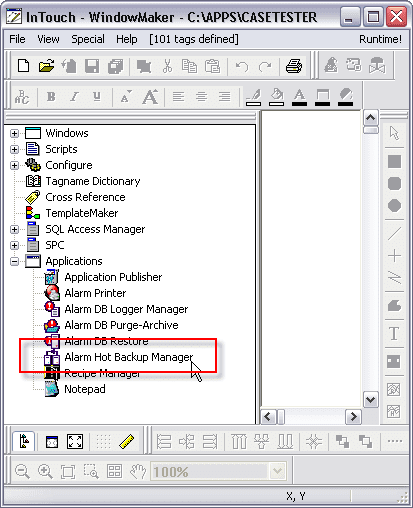 If this is the first time the Wonderware Alarm Hot Backup Manager utility is accessed, then there will be no hot backup pairs listed (the hot backup pair is created out of two alarm providers, the primary and the backup).  To begin select the New Pair button.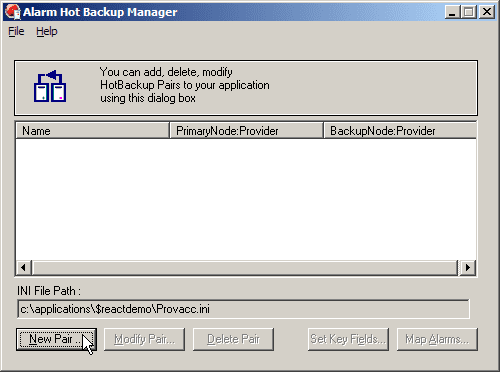 Notes:

For the Network Application Development (NAD) system, it is recommended to configure the Alarm Hot Backup Manager on the NAD provider.
(this is because as soon as the Alarm Hot Backup Manager is opened the Provacc.ini file will be created in the application folder (not the InTouch installation folder), and the .ini file modifications will need to be pushed to the NAD clients). The NAD provider does NOT need to be configured as an alarm provider, but can be.
The information entered within the Alarm Hot Backup Manager is carried into runtime through the .ini file modifications. The only way to to determine the status of the Alarm Hot Backup Manager during runtime is by verifying the alarm provider path.

The Add New Pair window will appear.  Enter the name for the Hot Backup Pair and information about the Primary and Backup alarm providers (Primary Node and Backup Node). The Hot Backup Pair Name will be used in place of a standard alarm query within an alarm display. When finished select OK.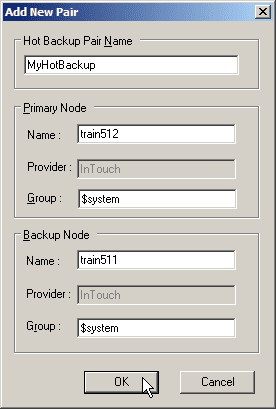 When finished close the Alarm Hot Backup Manager.  You will be asked whether or not you want to save the changes.  Select Yes.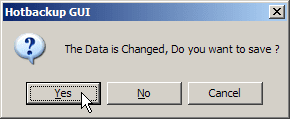 Within the InTouch  application, in the WindowMaker development environment, double-click on the alarm display (for the purpose of this document the AlarmViewerCtrl ActiveX control alarm display was used).  This will open the properties of the alarm display.  Navigate to the query, and enter the name of the Hot Backup Pair as your query.
Notes:
Multiple alarm queries can be used in a single alarm display (queries should be separated by a single space):
MyHotBackup \\<NodeName>\intouch!<AlarmGroup>
If the Wonderware InTouch application requires operators to inhibit, disable, or suppress alarms during runtime, then this functionality would need to be utilized through remote tagname referencing.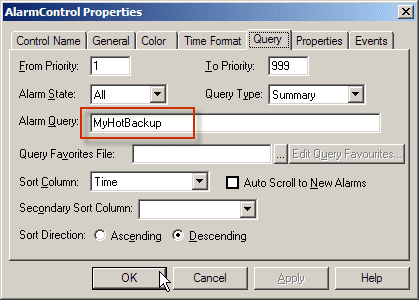 ---
All Industrial Software Solutions Tech Notes are provided "as is" without warranty of any kind.