The Meaningful Digital Twin
Written by Kalam McTaggart, Product Marketer, AVEVA
The concept of a digital twin has been around for more than a decade. A generally understood definition of the digital twin is that it comprises a virtual representation that serves as the real-time digital counterpart of a physical object or process. One of its earliest users was NASA (National Aeronautics and Space Administration), which helped define the technology. From its extraterrestrial beginnings, the concept of the digital twin has since trickled down from the cutting edge of the aerospace industry to a transforming industrial sector. It has also permeated most of our daily lives in the form of digital maps on our smartphones, allowing us to navigate our way across the planet with relative ease.
Within many industries on the ground, it can sometimes feel like the digital twin is more of a horizon than a daily reality. As a valuable digitally transformative concept, digital twin technology excites and overwhelms industry decision-makers. Various parties and industry verticals are seeking to capture and define how the digital twin applies to their sphere and what value it implies for EPCs and owner operators. Long-term capital projects are seeing the value of digital twin technology increase as the world transitions to more sustainable practices.
As a world leader in industrial digital transformation, we at AVEVA are committed to forming trusted partnerships with customers to deliver meaningful digital twin solutions.
We are pleased to announce new partnerships with Assai and NavVis, who we are working together with AVEVA to enable industrial companies across the globe to use our expertise and products to turn opportunities into sustainable business value.
NavVis
Munich-based spatial specialist NavVis is an innovator in mobile mapping and reality capture. Their hardware solution, NavVis VLX, is a wearable mobile mapping system that enables high-quality reality capture of complex buildings at unprecedented speed and scale – up to 10x faster than a traditional laser scanner with comparable accuracy. With this partnership, rescan and update in the digital twin can be done in hours and relatively low skill is needed to conduct the scanning.
Assai
Assai is a global leader in document control and management solutions for engineering and construction projects as well as maintenance for capital assets. AVEVA's class-leading engineering and asset information management solutions allow users to design and build new plants and retrofits efficiently and keep digital twin data evergreen while Assai helps customers ensure all data – no matter it's from – is incorporated in a logical, easily accessible way.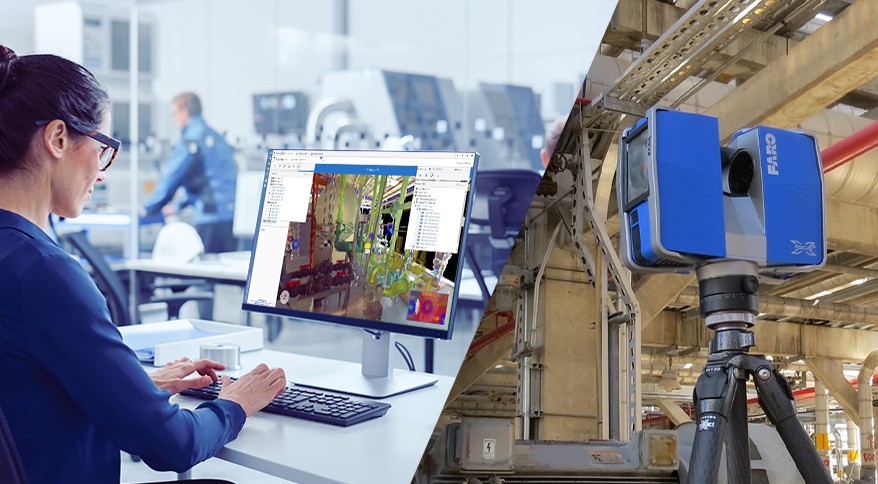 The power of partnership
With the recent formation of these new partnerships, AVEVA's digital twin offering is broader and deeper than ever. Creating the foundation of the digital twin has never been easier or more robust than with the latest developments to our cloud-based engineering information management solutions and partnerships.
AVEVA™ Point Cloud Manager and AVEVA™ Asset Information Management integrate in the cloud to seamlessly connect point cloud and 3D design model data with all other asset data to create deeper contextualization and visualization of the digital twin. Through AVEVA and our partners, the digital twin can be created and kept up-to-date quickly and easily, allowing companies to gain greater insight with more frequency.
Keys to a sustainable future
The drive to net zero is creating an increased focus on digital transformation and digital twin creation. Digitalization and the creation of a digital twin are critical components of existing brownfield assets, shaping their future profitability and sustainability by enabling old, outdated, or otherwise unsustainable plants to transform into sustainable, renewable facilities. AVEVA's engineering and information management solutions, together with our partners' innovations, allow organizations to gain practical, actionable, meaningful business value from digitalization.
To learn more about how our digital twin solutions can result in meaningful, tangible business value for you and your organization, speak with us today.