Pulp and paper companies that use new digital technology are beating the industry's productivity slump
News
| September 13, 2023
Written by Martina Balzan, Global Marketing Manager, AVEVA
Paper industry productivity decreasing by eight percent between 2016 and 2021. That's according to a recent McKinsey & Company analysis, which concludes that—more than just adding new production lines—pulp and paper companies need to invest in digital technology to sustainably increase productivity. Digital technology offers exciting opportunities for companies to overcome multiple challenges in the contemporary market. In my view, there are five major imperatives it can help pulp, paper and forest products companies tackle.
1. Streamline new construction
In today's volatile market, it's more important than ever to minimize delays and CAPEX outlays on new construction. The best engineering firms are using state-of-the-art software that lets everyone on the engineering team work with the same information, at the same time, on the same platform. Such software, which also gives owner-operators access to their data, can reduce engineering hours significantly.
What's more, engineering firms can use this software to hand off a digital twin of the new construction to the owner-operator, who can use it to reduce operating costs well into the future. Learn how one engineering firm gives a complete 3D model of a newly commissioned plant to pulp and paper owner-operators, which they can use to manage its asset life cycle after hand-off.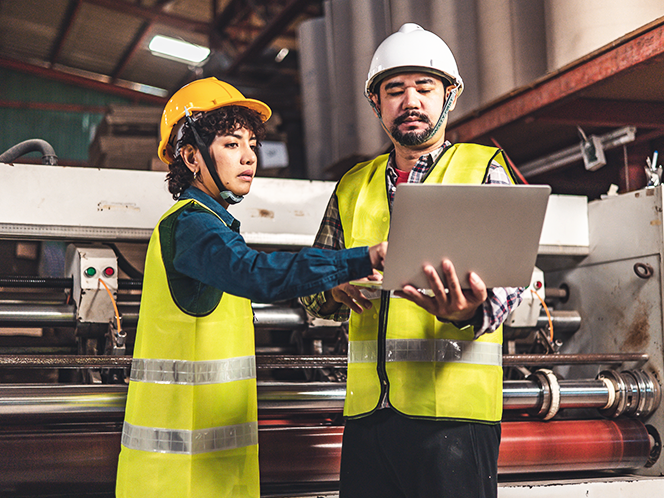 2. Empower the workforce
The industry has trouble attracting new talent, even as it's losing many of its most knowledgeable, veteran workers. Data-driven predictive asset optimization and maintenance software can help by minimizing the time workers spend doing maintenance. Visualization software makes it easy for fewer workers to keep track of operations, while automated, AI-based alerts and notifications let operators with limited experience run operations. Learn how WestRock is using software to save over 500 worker-hours per month in each of its facilities.
3. Transition to the circular economy
With energy costs continuing to rise, a good strategy is to generate as much power as possible on site, using spent pulping liquor, wood waste and hydroelectric stations. A good digital infrastructure helps facilities optimize energy and water use, minimizing the amount of power they have to purchase from elsewhere. Learn how International Paper developed a sustainable solution to reduce steam generation and improve boiler efficiency.
4. Create an agile, optimized value chain
With all the upheavals in the supply chain, it's more important than ever to optimize planning and scheduling to balance supply and demand. Reliable operations data helps improve production and supply chain agility from planning through execution. Learn how Klabin, Brazil's largest producer and exporter of paper and pulp, creates real-time digital models of pulp production, from tree-harvesting through drying. This holistic overview saved the company nearly $10 million in maintenance costs and increased its production by 3,400 tons.
5. Maintain reliable, efficient and safe operations
Key to all the preceding imperatives is continuing to optimize asset use and performance along with situational awareness. Learn how Georgia Pacific deploys a consistent dashboard across all its mills to track KPIs and let corporate subject matter experts address problems without site-specific knowledge.
To learn more about each of these imperatives—and how pulp, paper and forest products companies are using software to carry them out—read the white paper, "Expanding its digital information infrastructure helps the pulp, paper and forest products industry take advantage of new market dynamics".