Four Must-See Sessions from AVEVA World Digital January 2021
AVEVA World Digital (AWD) January 2021 was an incredible event, the biggest and best yet of AVEVA's virtual industry events. As a three-day event this time around, AWD featured 10 interactive demos, 25 speakers, and over 100 sessions.
With so many sessions, it was difficult to pick and choose which ones to watch. The event spanned many topics, industries, and new product features. That's why we put together our list of four must-see sessions from AWD January 2021.
1. Accelerate Intelligence, Elevate Performance –
Craig Hayman, CEO, AVEVA
This was the very first presentation of the day, setting the stage for an exciting and insightful three days ahead. AVEVA CEO Craig Hayman kicked off AWD. Hayman spoke of the "intelligence revolution", where new opportunities and new ways of working have emerged. This statement was supported by economists' predictions Hayman shared, expressing that digital transformation services will grow by more than 10% next year. Buzzword or not, there's no doubt that digital transformation is top of mind for many industrial enterprises.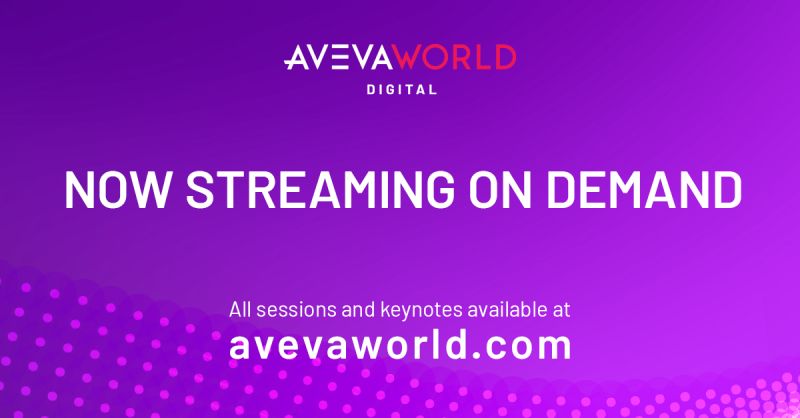 Sustainability was also a key topic during Hayman's keynote presentation. As organizations navigate the challenges of recovering from the pandemic, AVEVA solutions are enabling them to do so with sustainability at the core. Hayman gave a preview of several sessions featuring customers using AVEVA software to operate more sustainably in terms of their economic growth and impact on the environment.
2. Data Led Innovation – The Industries of the Future – Rashesh Mody, Sr. VP, Head of Monitoring and Control Business Unit, AVEVA
Rashesh Mody, Head of Monitoring & Control for AVEVA, led a customer panel featuring business leaders from Starbucks, Micron Semiconductors, Marathon Oil, and Genentech. The panelists each shared the challenges they face and how they are solving for them in partnership with AVEVA.
During the Q&A portion, each panelist had the chance to answer questions about digital transformation and provide their insights regarding adoption of new technology and how they are driving more value from the vast amounts of data created from their enterprise operations. This was a captivating session, as viewers had the chance to hear about key learnings from some of the largest enterprises in the world.
3. New Rules for a New World – Mike Walsh, Chief Executive Officer, Tomorrow
It's clear that COVID-19 has changed our lives. From where we work, how we work, and the ways in which we interact with each other, a new world has emerged amidst the pandemic. In his session, Mike Walsh, Global Futurist and CEO of Tomorrow, addressed current trends in our changing world and how digital technologies can help us work from anywhere more efficiently and collaboratively than ever. Walsh offered three new rules for working in a new world:
Rule #1: There is not digital disruption, just digital delivery
Rule #2: There is no remote work, just work
Rule #3: AI will not destroy jobs, but change them
This session was thought-provoking. Walsh shared many forward-looking insights and predictions for the near future. There was also a Q&A session at the conclusion of his presentation, full of great questions from viewers about the future and Walsh's detailed responses.
4. Accelerate Sustainability – Lisa Johnston, CMO & CSO, AVEVA
Lisa Johnston, Chief Sustainability Officer & Chief Marketing Officer, gave us a look into the sustainability initiatives AVEVA to which AVEVA is committed. With AVEVA's efforts to reduce its carbon footprint and improve the environment, it is in a great position to help customers take on similar initiatives.
Johnston shared several stories from AVEVA customers such as National Grid UK and Nava Raipur that show how AVEVA is helping to fulfill their sustainability commitments. The session was eye-opening, and further demonstrated the power of digital tools in helping customers not only run their business more efficiently and profitably, but also in a way that is more sustainable and environmentally friendly.
Go Explore the On-Demand Sessions!
There were so many interesting sessions to pick from during AWD, in addition to the four outlined above. We encourage you to take advantage of your on-demand access to all 100+ sessions from the event. Not only can you access the session recordings, but the associated documents to learn more.
And if you didn't register before AWD, don't worry. You can still register for the event to gain on-demand access. Enjoy your viewing!