Five Steps for Defining an Operational Excellence Plan
Written by Jeremy Wilbert, Sr. Product Marketing Manager, AVEVA
Any organization can proceed toward operational excellence by starting small, defining a plan, and implementing the right digital technologies.
Operational excellence was defined in this previous post Defining Operational Excellence as establishing a high level of asset reliability and enabling the team to agilely maximize efficiencies throughout the entire manufacturing and corporate organization, including the supply chain. This is a tall order! But any organization can realize success by starting small.
A successful plan must consider people, processes, and assets. Following are five steps for defining and executing an operational excellence plan.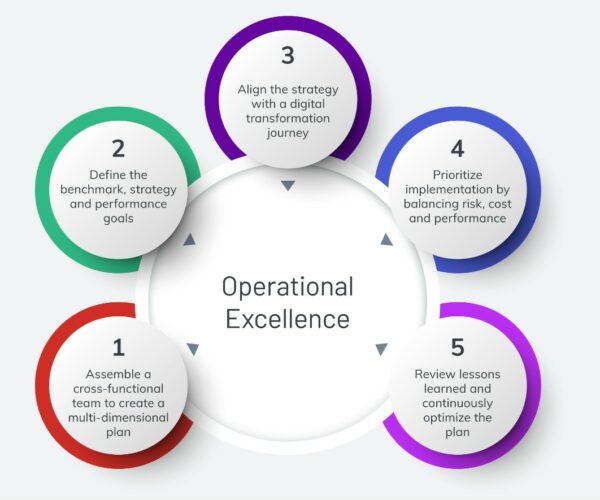 1. Assemble a Cross-Functional Team to Create a Multi-Dimensional Plan
True operational excellence is not achieved by a single person or even a team. It requires expertise and insights from everyone influencing the activities to be improved. Stakeholders may include personnel in operations, maintenance, engineering, compliance, business offices, and other areas.
Realizing that operational excellence will take some time to develop, organizations must analyze current operations for gaps and opportunities for improvement, starting small in a few key areas. These can include production processes, operations & maintenance procedures, team skillsets, asset health & lifecycle, supporting systems and data, or other areas. Common considerations for a multi-dimensional plan include:
Production Processes: Employ metrics defining whether production rates and qualities are as expected, and if assets are performing to specifications.
People: Investigate whether the right information, procedures, and training are in place so personnel can be successfully on-boarded and become effective team members and continue to function effectively over time.
Assets: Determine the costs of maintenance, along with any unanticipated increases or critical failures, with the objective of balancing operations demands with maintenance requirements.
Systems & Data: Are the right systems in place to deliver reliable and timely data to personnel, whether they are local on the plant floor or working remotely?
Geography & Culture: For companies with more than one location, are there differences in practices and personnel which must be addressed, and can best practices be transferred among business locations?
2. Define the Benchmark, Strategy and Performance Goals
Turn the plan into a strategy for achieving the operations and performance goals. Use comparisons with industry peers and benchmarks to ensure the goals are inline and reasonable. Align the strategy to business risk areas such as asset availability, HSE compliancy, productivity, and profitability. Then, identify specific training and technologies which must be implemented to pursue the strategy. For example, perhaps the operations teams need a collaboration tool to better facilitate communication during social distancing.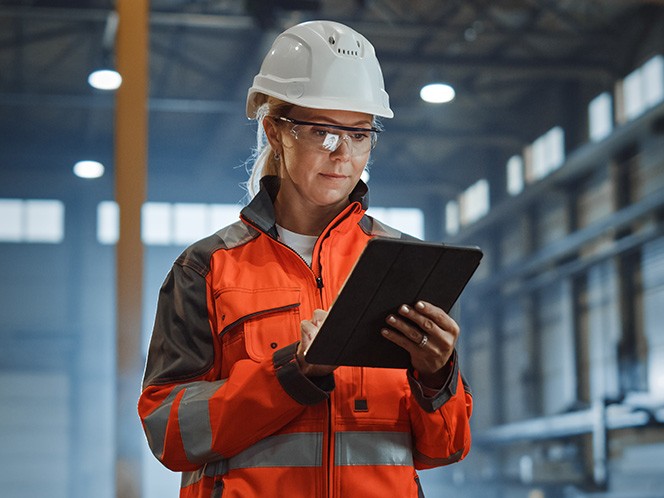 3. Align the Strategy with a Digital Transformation Journey
While nearly every industry has an imperative to go digital, each organization is at a different stage of adopting digital technologies to accomplish operational tasks. Some activities will be entirely digital, and most are at least supported by digital technologies. With the plan and strategy in hand, consider which digital technologies are in place, or should be upgraded or added to enable success.
In addition, this step also begins to evaluate the costs related with executing each activity. Prioritize implementation of new processes and technologies based on the expected return on investment (ROI), balanced against risks associated with timing, production needs, equipment sourcing, personnel availability, and other factors, to determine the most immediately actionable items.
4. Prioritize Implementation by Balancing Risk, Cost and Performance
Create an action list and timeline, delegating responsibilities to stakeholders and sourcing partners as needed. Define clear key performance indicators (KPIs) and other metrics to measure and track task execution.
5. Review Lessons Learned and Continuously Optimize the Plan
When executing any strategy, it is always important to assess deviations and examine lessons learned along the way to help iterate and refine the plan, providing continuous improvement along the path forward.
Learn how AVEVA can help your company develop and execute a plan to achieve operational excellence using the steps outlined above and incorporating digital transformation products and services to deliver success.