Driving operational excellence with digital twin technology
Written by Steve Parvin, VP Engineering Information Management, Portfolio Strategy – AVEVA
Whether it's optimizing asset performance against a backdrop of shrinking margins, minimizing environmental impact, increasing sale value, or preparing for decommissioning, industrial operational teams have an ever-increasing number of factors to balance daily.
Although the benefits of digital twin technology during capital expenditure projects are broadly understood, there is lower awareness of how the solutions can be applied to unify operational engineering data and identify actions to deliver sustained improvements across operational plants.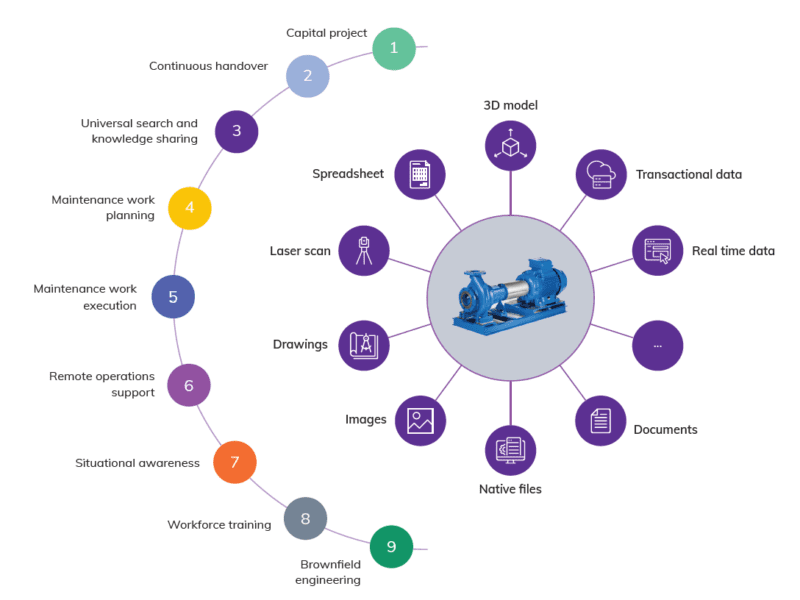 The Digital Twin: A single hub of real-time trusted asset information useful throughout the project lifecycle.
Trusted engineering data is at the core of every successful digital twin. Unifying data in a single secure hub provides the structure from which the twin can be created and allows 3D visualization. Digital twin technology is providing engineering, maintenance, and operations teams with stability and predictability during uncertain times.
Digital twins are delivering transformational insights across three key operational areas:
Driving asset excellence: Although many assets have embarked on their digital transformation journey, most remain siloed and are failing to address some of the most significant barriers to improving performance. A unified approach to engineering information management connects people, processes, and performance.
Practical digital twin solutions synchronize all engineering data enabling engineering teams to access all relevant asset data in the context and format that best allows them to do their jobs – from searching for a document or schematic or a 3D laser scan and comparing them against a laser scanned asset model—ensuring engineers can quickly go from a high-level overview of an asset down to granular detail. This minimizes risk, eliminates time wasted searching for and verifying data, and creates an agile team that can quickly respond to changes.
Increasing sale value: The current volatile market has seen an increase in assets being sold. Supplying potential buyers with detailed oversight of the asset including 3D laser scans linked to complete engineering data – and particularly full maintenance information – provides the reassurance needed to not only secure the sale but potentially increase the value too. Any uncertainty can negatively impact the price.
Supporting decommissioning: Unforeseen issues with either the well or asset can add millions of dollars to a decommissioning project. Digital twin technology reduces the unknown by ensuring engineering teams have a complete picture of the asset. Armed with this information engineers, their in-house decommissioning teams, and external consultants, can better plan the decommissioning program.
By aligning multiple engineering disciplines around a single source of verified data, risks are minimized and identified early, time wasted sourcing and checking data is eliminated, and a culture of collaboration between teams and wide stakeholders is fostered through greater transparency and bi-directional data flows.
For engineering teams, having end-to-end oversight of engineering data is the key to achieving asset excellence, driving down emissions, and optimizing output. A single hub of real-time trusted asset information that connects disparate data feeds is at the heart of delivering transformational performance improvement. Linking this to additional digital twin solutions is giving engineers the control and actionable insights they need to transform performance.
Learn more about the benefits of digital twins for industrial teams and how digital transformation will help your industry adapt to global changes. Download the whitepaper, "Embracing digital twin technology for engineering assets".