Boosting engineering performance and enhancing productivity with 3D model simplification
Written by Brian Hughes, Senior Portfolio Manager, AVEVA
AVEVA Model Simplification and AVEVA Native Model Simplification are add-ons that enable users to import into AVEVA™ E3D Design effortlessly and vastly improve software performance.
Efficiency, ease of use, stability, and accuracy – these are some of the key attributes engineers managing complex operational processes expect from their design solutions. For 50 years, AVEVA's engineering and design technology philosophy has always been to deliver on all three.
That's why I'm excited to share the news that today we're announcing a collaboration with global digital engineering and manufacturing solutions company, International TechneGroup Incorporated (ITI), a Wipro company, to release two new add-ons for AVEVA E3D Design. The new offers – AVEVA Model Simplification and AVEVA Native Model Simplification – empower our customers to increase productivity through model simplification boosting the speed and performance of AVEVA's flagship 3D computer aided design (CAD) product, AVEVA E3D Design.
"The new AVEVA E3D Design offers allow customers to shrink large files ahead of model integration. They unlock enriched stability and usability of plant design systems containing large equipment models to vastly improve engineering efficiency."

– Andy Chinn, Director at ITI
Ramping up performance with model simplification
AVEVA Model Simplification and AVEVA Native Model Simplification are powered by ITI's CADfix PPS automatic simplification solution, an advanced model simplification wizard which offers three levels of simplification, along with user control options. Moreover, it is possible to remove internal elements and reduce complex parts to basic shapes (Fig. 1) which significantly reduces file sizes to eliminate import failures, produce legible models and help avoid engineering rework.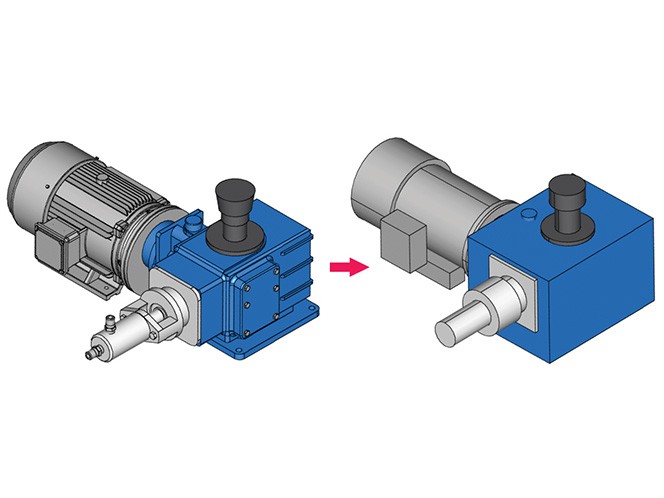 Fig. 1. The complexity of the pump design is reduced to basic geometric form to improve engineering speed and accuracy.
Reigning in complexity
AVEVA Model Simplification and AVEVA Native Model Simplification enable users to import complex 3D CAD models of equipment items that have been created in external Mechanical CAD (MCAD) systems. During the import process, the equipment items can be simplified before inserting into the typical design database. Smaller models mean faster working. The imported equipment items behave exactly the same way as other AVEVA E3D Design objects do to ensure customers can work on projects more efficiently and with increased ease, accuracy, and peace of mind.
Engineering and design efficiency can have a massive impact on the success of a project, and sacrificing quality can have long-term effects on operational efficiency, sustainability and safety of your plant. Don't allow a 3D model overloaded with the non-essential details to adversely impact performance of your engineering team's hard work. The new AVEVA Model Simplification tools allow users to eliminate excessive details and small CAD features to offer seamless integration of the equipment model into the plant model without all the heavy lifting.
Are you interested in finding more opportunities to digitally transform your engineering workflows? View our interactive whitepaper to discover 5 ways to unlock design efficiencies using AVEVA E3D Design.