Advanced Planning and Scheduling for AVEVA MES
Written by Michael Schwarz, Senior Product Marketing Manager, AVEVA
Optimize manufacturing plant throughput and on time delivery with integrated production planning, scheduling and execution.
AVEVA has partnered with PlanetTogether to add new capabilities to the AVEVA Manufacturing Execution System (MES) in terms of visual planning and scheduling, production schedule optimization and multi-plant production planning.
Integrated production planning, scheduling and execution
We are excited to announce new advanced planning and scheduling capabilities and integration with the AVEVA Manufacturing Execution System available for our customers. AVEVA has partnered with PlanetTogether, a leading Advanced Planning & Scheduling (APS) platform provider, to bring scheduling optimization capabilities to manufacturers looking to improve the output on critical resources, further minimize losses within the plants and to achieve more reliable on time delivery.
Advanced Planning and Scheduling from PlanetTogether resolves production constraints and creates KPI-driven schedules automatically. It minimizes changeover downtime automatically by taking all critical constraints including finite resource capacity, raw and intermediate material availability, and specific scheduling rules into consideration. Automation of operational planning and scheduling tied to production execution creates accurate schedules in minutes and increases the operational flexibility and responsiveness for all AVEVA Manufacturing Execution System target verticals as it has been successfully applied in F&B, CPG and other volume product manufacturing industries.
More than a scheduling tool
The Advanced Planning and Scheduling solution from PlanetTogether additional allows to simultaneously plan and schedule production based on available materials, labor and machine capacity across multiple plants. What if scenarios allow to quickly create and compare planning scenarios to understand both the high-level KPI and detailed impact. Respond quickly to your customers with realistic delivery estimates for new orders using the Capable-To-Promise function. Enable collaboration across plant and supply chain functions with always-current schedule visibility that is updated in real-time by production feeds, resource status, and demand changes.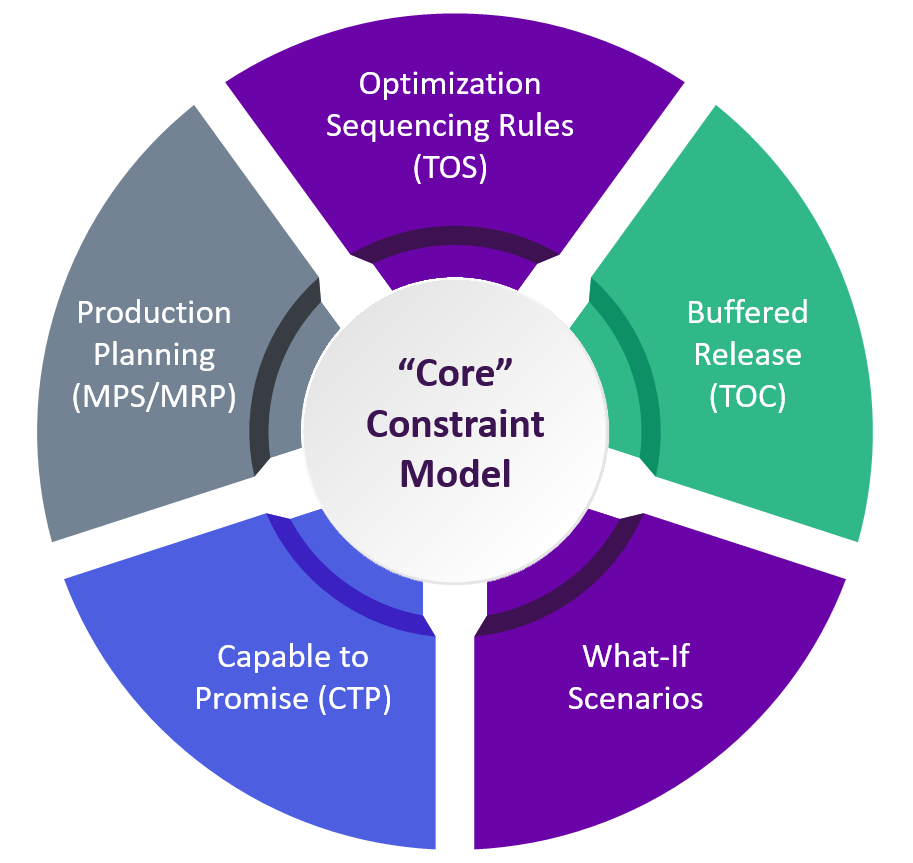 A realistic production model is the foundation for an accurate production schedule
Integration of advanced production planning and scheduling with AVEVA's Manufacturing Execution System (MES) allows supply chain planners to generate feasible and integrated sales and operations plans based on actual plant capacity and material availability, with full visibility to progress against plan for delivery that is on time, in full and at the lowest cost.
Supply chain visibility and interoperability enable agility and resilience
The last few years have been tumultuous for manufacturers, with demand swings, supply chain disruptions from COVID and increasing costs; new emerging imperatives for manufacturers are agility to meet customer demand, supply chain resilience, increased productivity and sustainability.
These imperatives ask to deploy manufacturing and supply chain systems which are demand driven and optimized to ensure the maximum business returns that operational constraints allow.
Watch our webinar which discusses these post pandemic imperatives for manufacturing with Keith Chambers VP of Operations Management software, AVEVA and his view on "how to optimize the manufacturing value chain" as well as for listening to Ram Ramasamy, Global Client Leader at Frost & Sullivan talking about the "fourth industrial revolution impact on the manufacturing value chain",
Watch the Webinar: How to prepare manufacturing operations for a post-pandemic rebound with a focus on growth, profitability and sustainability
For more information about Advanced Planning and Scheduling for AVEVA Manufacturing Execution System please visit: https://www.aveva.com/en/products/planettogether-aps
If you are interested to add advanced planning and scheduling capabilities to your existing AVEVA Manufacturing Execution System deployment, or for an integrated production planning, scheduling and execution demonstration, please reach out to your AVEVA sales representative.