Adopt hybrid SaaS architecture for sustainable industrial growth
Written by Sarah Robson, SaaS & Cloud Product Marketing Manager, AVEVA
The pace of change is predicted to accelerate across all industries over the next decade and industrial businesses must match that speed in order to remain competitive. Regulations from global government and environmental agencies force industry to move toward decarbonization. At the same time, businesses face increasing pressure from unstable global supply chains due to the long-lasting effects of the covid-19 pandemic and geopolitical crises. Businesses must develop flexible and collaborative operating models that allow them to adjust to changes and collect the data they need to satisfy regulation and seek out new opportunities to reduce emissions.
The effort to create more efficient working models to meet sustainability and flexibility challenges has led many businesses to the cloud. While some industrial businesses may have been reluctant to move to the cloud due to perceived availability concerns, many are now embracing hybrid architectures where they can benefit from software-as-a-service (SaaS) solutions in a secure industrial cloud, through a central cloud-based platform.
Traditional cloud vs. hybrid in an industrial setting
The 'traditional' cloud is often compared to a data lake, where a multitude of inputs across organizations feed into a central cloud environment where they can be navigated with dashboards and channeled to workforces. The benefits of this cloud approach are widely celebrated – clear visibility, rapid deployment, stronger security, remote connectivity, cost-effectiveness, streamlined process management, and scalability – which accounts for the increasingly widespread adoption of the cloud in organizations across the world.
For industrial businesses, this is just the tip of the iceberg when it comes to getting the most out of the cloud. Industrial processes are uniquely complex, and to get the most value from the cloud, it's important to address the following challenges:
Industrial plants and facilities produce massive amounts of real-time data that can quickly turn into a data swamp if not fully understood and given context.
There may be a high impact on safety and/or critical performance if connectivity is lost.
Bringing data together across global enterprises, with consideration for data residency and sharing regulations by country and region.
With these factors in mind, a hybrid approach – connecting on-premises systems and/or data to the cloud – is an attractive strategy for industrial companies moving to the cloud.
Aggregating data to selectively store in the cloud reduces the maintenance load of large volumes of data and ensures greater accuracy of the analytics and information businesses rely on to make informed decisions and stay ahead of the curve.
Critical systems kept on-premises and enabled by the cloud take the data you need out of the system without compromising safety or critical performance. In simple terms, you're getting the best of both worlds.
Early hybrid SaaS and cloud adopters within the industrial space are digitally transforming their business to help workers collaborate and unlock the power of their data. By transforming their data into a consistent format across the world, combining their IT/ OT/ ET systems, improving collaboration, and empowering their people, they make discoveries that impact operational efficiency and can act on them quickly.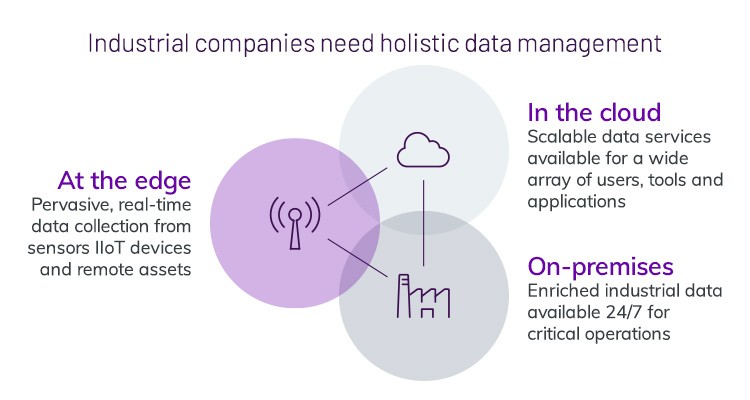 Hybrid SaaS for industry
Such models lead to enormous efficiency improvements. For example, a well-known Australian mining company adopted a hybrid approach to remotely monitor the performance of their plants, machinery and vehicles.
This company leases their plant and equipment, with a service agreement from the vendor. So far, this isn't anything new. The key differentiator here is that they used IIoT sensors to collect and aggregate large volumes of operational data, taking it from the edge and feeding it into the cloud for analysis to remotely monitor performance.
Through remote monitoring they identified minor problems such as hydraulic leaks, and cooling systems not performing to their potential before they broke down. This level of monitoring was not achievable with only on-site monitoring, particularly for sites in remote locations. The company significantly improved productivity and identified supply chain bottlenecks as a result.
The benefits don't just apply at the singular plant level. Accessing contextualized information through a single point aggregates information coming from multiple plants and offers a holistic overview of the organization.
Combining operational data, production data, 3D models, engineering, and asset information gives virtual competency teams the information they need remotely so businesses can make faster, better informed decisions, and spot previously hidden opportunities to improve margins.
Tim Sowell, AVEVA's chief industry solution architect for software, discusses an example where a major multinational manufacturer was able to use the cloud to access manufacturing information from across all points of their operations and consolidate it into one single, centralized data platform.
"Suddenly, a company can go from 50 isolated plants to one account – one estate – where they can log in and see the information accumulated from across all of those plants."
"As soon as you have that," Tim continues, "all of that data is available to your digital applications – your own data links, your own machine learning, your own data science – which allows you to do things like build a library of 'what if' scenarios."
"AVEVA software fosters an environment that allows users to take three or four applications, put them together, and build trusted cloud-based solutions which extend their on-premises board," concludes Tim.
For industrial companies ready to implement a hybrid SaaS solution, finding an industry specialist who fully understands the unique requirements of critical infrastructure and industrial assets is imperative.
Where do you start? Reach out to Industrial Software Solutions to start a discussion.