A shot in the arm: The PI System improves the pharmaceutical industry
Written by Melinda Corley, Product Marketing Manager, AVEVA
When chief decision-makers at a large pharmaceutical company found themselves at a crossroads on how to handle their data, they knew they would have to rely on experts. The company's data architecture wasn't standardized, which meant wasted hours compiling reports. It wasn't just profits at stake, but lives; the more efficiently the drug maker could run its operations, the more readily available its products would be to the people who needed them.
The team knew better data management and enablement across the company's many global sites was the key to unifying their data architecture and increasing efficiency. To get there, the company needed help. They turned to PI System Premier Partner TQS Integration, a Cognizant Company (TQS) to find and implement a solution that would allow data standardization across diverse historians, which are spread across many facilities, into a single, standardized data platform.
Upfront planning for fast results
TQS brought its 20 years of experience with the PI System to help the pharmaceutical company organize its data. The PI System's unique ability to capture and curate critical asset data improves efficiency by giving enterprises unprecedented real-time visibility into their operations—exactly the competitive edge the pharmaceutical company needed. The added visibility the PI System gives users also streamlined reporting, which is vital in compliance-heavy industries like pharmaceuticals.
Because deployment speed and improved efficiency are often users' primary goals when considering whether to adopt the system, TQS developed its PI System deployment strategy accordingly. Using automated development and deployment strategies, TQS's handling of the planning and rollout phases truly differentiate it; TQS executes the planning for multiple sites simultaneously, rather than repeating the arduous process on a site-by-site basis. TQS executes the planning for every deployment site upfront, which vastly decreases the time it takes to deploy the system, cutting costs and accelerating ROI. Likewise, TQS's team's experience and training (many TQS engineers have PI System certifications), and its comprehensive understanding of the life sciences industry set it apart from its competitors.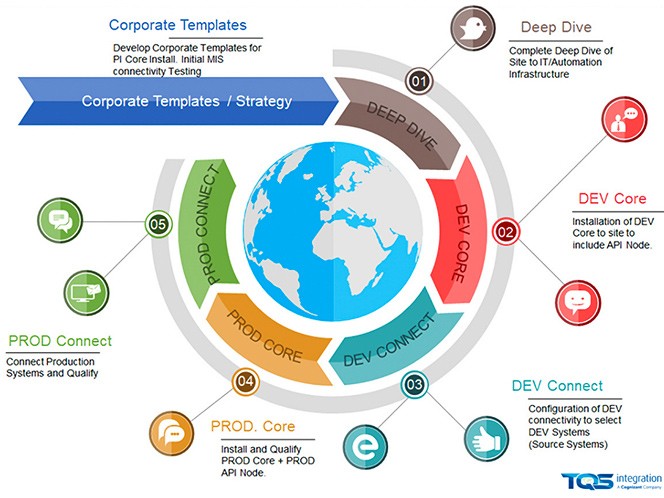 TQS successfully pitched its validation approach and undertook a six-month project on the client's behalf to standardize the company's data architectures and operational data—including data for overall equipment effectiveness (OEE) and manufacturing execution systems (MES), among other sources—across eight production sites. The system gathered this OEE and MES data, and, using cloud-enabled technologies, provided users with access to the company's data management teams. TQS's expertise, coupled with the PI System's unmatched ability to consolidate data from disparate sources and contextualize it, made the project an overwhelming success.
The results spoke for themselves. The company's new data management practices amounted to a groundswell in efficiency gains. Among other positive outcomes, the PI System allowed the company to reduce paper reporting by up to 50 reports in some cases. TQS also helped the company consolidate its many data historians under the PI System, decreasing its system integration time; with the PI System, what once required 35 days on average now takes just 14.
Looking forward: Partnership and promise for the future
In light of its successes deploying the PI System, TQS has signed a partnership with the client designating it as the client's sole PI System integrator for the next three years—a pivotal timeframe, as the company rolls out the data standardization to its many global sites.
As it continues to innovate, TQS plans to build a centralized business intelligence data repository with dashboards to offer users a greater degree of control and transparency. TQS sets a promising example for others in the PI System EcoSphere to follow, as this type of outstanding service—with the singular goal of empowering clients with the tools they need to thrive in today's uncertain markets—encourages customers to partner with AVEVA and engage PI System Premier Partners like TQS.