5 use cases for the emerging industrial metaverse
News
| September 11, 2023
The industrial metaverse will drive competitive advantages by blurring the boundaries between the physical and digital. Simon Bennett, AVEVA Head of Research and Jose Valls, CTO Manufacturing at Microsoft Corporation, explain which companies will be the first to benefit
The industrial metaverse holds the potential to transform business operations at a time when companies are desperate for innovative solutions to unlock value and gain competitive advantages.
McKinsey estimates the different metaverse applications, spanning industry, enterprise and consumer applications, could generate between $4 trillion and $5 trillion in value by 2030.
Microsoft values the addressable market of the industrial metaverse alone at $300 billion over the next few years.
The industrial metaverse, defined
The industrial metaverse can be defined as a highly immersive environment that blends the physical and digital realms, supporting seamless interaction and collaboration between people and data. It builds on the strengths of traditional digital twins by virtually representing physical entities from products and components to sites and processes, adding photorealistic visualization, time-travel capabilities, and a rich collaborative layer.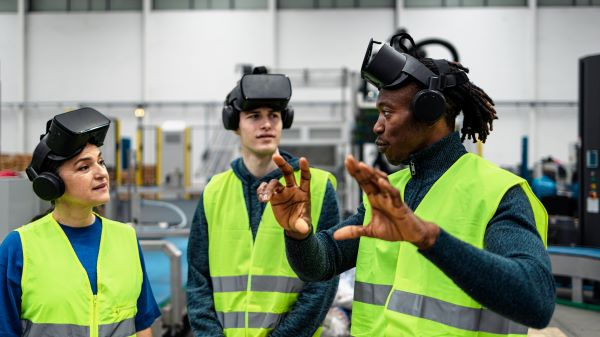 In simpler words, the industrial metaverse gathers data, people, and workplace experiences on a unified, always-on digital platform. Now, these digital representations will be able to interact virtually and in 3D, across geographies and across timespans (thanks to recording functionalities) – all agnostic of the device.
Five use cases for the industrial metaverse
The industrial metaverse simply expands an asset's operable universe beyond its four walls, supporting a near-limitless range of use cases across industries:
Strengthening engineering and design: With its immersive multiplayer simulations and rehearsal capabilities, the industrial metaverse enables engineers to practice complex scenarios virtually, revolutionizing the engineering of large industrial assets.
Collapsing supply chain silos: When players from across the value chain come face to face on one platform, it fosters collaboration across the entire ecosystem, enhancing communication, improved material management and sourcing, and sparking innovation.
Optimizing industrial operations: Combining and analyzing IT, OT and enterprise data enables businesses to optimize and drive new value from physical systems. Real-time data streams, such as from sensors or SCADA and MES systems, can be mined for operational insights, enabling predictive maintenance, process optimization, and improved decisions.
Addressing the skills gap: As skilled talent becomes harder to find, the industrial metaverse bridges the gap. Cue broader access to virtual training, closer collaboration and knowledge sharing among geographically dispersed teams, and speedy worker upskilling, live and in 3D.
Enhanced safety and risk mitigation: Simulating complex scenarios and virtual rehearsals can reduce operational safety risks and accidents and reveal mitigation strategies.
Meet the early movers of the metaverse
The industrial metaverse combines several new technologies: industrial big data, operational data management, artificial intelligence, robotic process automation and autonomous systems, digital twins and cloud computing.
It will also transform how businesses operate and innovate in many different fields. A number of industries are showing early interest.
In manufacturing and industrial automation, for instance, virtual simulations, optimizations and prototyping can enhance production processes.
Energy and utilities could benefit from the industrial metaverse's asset management and predictive maintenance capabilities. In construction and engineering field, virtual modeling and collaborative platforms can streamline project workflows.
The transportation and logistics sector leverages the metaverse for efficient supply chain operations.
Nearly every sector will benefit from real-time training applications as well as lower travel – and carbon – costs.
We're not quite there yet, but the highway to growth is in sight
Technology trends are converging towards a tipping point for the industrial metaverse, from improved connectivity to interoperable solutions and new types of infrastructures, such as cloud-native architecture. For companies that have already invested in the digital twin, the industrial metaverse leverages these trends and adds an additional layer of technology to protect their future.
The industrial metaverse visualizes a future where the seamless integration of physical and digital realities unleashes a host of new benefits, from real-time innovation to new market prospects.
Watch the webinar, "What's Next for Digital Twins & the Future of the Industrial Metaverse" to learn more.